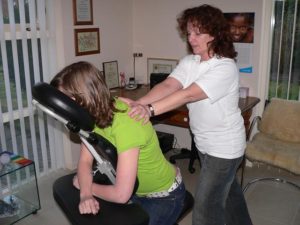 Gezond zijn en gezond blijven is een samenspel van lichaam en geest.
Veel mensen ervaren op hun werkplek spanning of stress. Het lichaam of de geest (psyche) worden dikwijls overbelast, met als gevolg: lichamelijke klachten zoals nek, rug- en schouderklachten. De spanning slaat als het ware vast op de spieren en gewrichten.
Zelfs het lang achtereen zitten op een stoel, al dan niet achter een computer, belast de spieren.
Velen kennen de klachten R.S.I., de tenniselleboog, frozen shoulder en bijvoorbeeld het carpaal tunnelsyndroom. Intussen kennen we ook de "tablet-nek". Ook hoofdpijn is vaak de oorzaak van spanning of overbelasting.
Stoelshiatsu is een herstellende, maar ook preventieve methode gebleken, die effectief het ziekteverzuim kan verminderen.
Stoelshiatsu, soms ook stoelmassage genoemd, heeft zich ontwikkeld uit de Chinees-Japanse traditie.
De shiatsu-therapeut behandelt in een vaste volgorde de volgende delen van het lichaam: de nek, de schouders, de armen en handen, de rug en het hoofd. Dit doet hij/zij vooral door middel van vinger- en duimdruk. Ook worden er enkele rekkingen toegepast. Uiteindelijk zullen de spieren daardoor ontspannen en zal de spanning afnemen.
De behandeling:
Een stoelshiatsu behandeling duurt tussen de 20 en 25 minuten en kan gekleed en eventueel op de werkplek plaatsvinden. Omdat de behandeling over de kleding heen kan, is de drempel laag. De behandeling vindt plaats in een speciaal daarvoor ontwikkelde stoel. Het lichaam krijgt de nodige steun, zodat de cliënt zich kan ontspannen. Op afspraak is behandeling op het werk of thuis mogelijk.
Reiskosten worden dan wel in rekening gebracht..
Toepassing:
Shiatsu en stoelshiatsu kunnen helpen bij:
Nek- en schouderklachten
Hoofdpijn
Rugklachten
RSI
Tenniselleboog
Carpaal tunnel syndroom
Frozen shoulder.
Ademhalingsproblemen
Maag- en darm problemen
Klachten als gevolg van stress en werkdruk
Hyperactiviteit
Verder is uit onderzoek gebleken dat shiatsu ook een preventieve bijdrage levert aan uw gezondheid.
"APK– voor lichaam en geest"